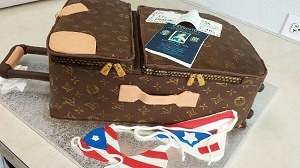 Our custom shaped are sometimes referred to by us as ultra custom cakes and include non-wedding tiered cakes.  Using edible materials such as fondant, gum paste and modeling chocolate, there are really no limits to what can be designed and created.  Our team will work with you to design a cake to your specifications that will look and taste amazing! You and your guests will be amazed that these works of art are actually edible.
Shaped and Tiered Gallery
Our shaped cakes cover the spectrum from ultra custom, super detailed to simple shaped and butter cream iced.