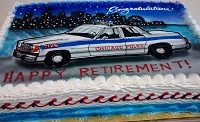 Our Layer Cakes can be referred to as "Build Your Own Event Cakes".  You pick out the cake size, dough, filling and icing flavors, then let us know how you want it decorated.  You can add a custom drawing, toy set or edible image to really personalize your cake!  Our layer cakes can be ordered in either 2 layer (2 layers of cake with one layer of filling) or a 3 layer torte (3 layers of cake with 2 layers of filling).  Sizes range from 8″ up to a full sheet. Although layer cakes can be cut into custom shapes, round, square and sheet cakes are standard. If you are looking for a cake which is shaped or more custom, you can take a look at our Novelty or Custom Shaped cake sections. Please contact us for any questions or to place an order.
Cake Size and Servings
The following tabs show the sizes we make our layer cakes. Click on the tab of each size to see the serving information

8 inch
9 inch
10 inch
12 inch
14 inch
Half Sheet
Full Sheet
Cake Options
Items marked with an asterisk * are premium options and my be an additional charge.

Cake Flavors
Filling Flavors
Icing Flavors
Additional Cake Options
Layer Cake Decorating Options
All of our ordered layer cakes include writing and decoration with either flowers or ballons in the color of your choosing. Click on the tabs below to see the additional options available to make your cake your very own.

Custom Drawing
Edible Images
Toy Sets
Fondant and Gum-Paste