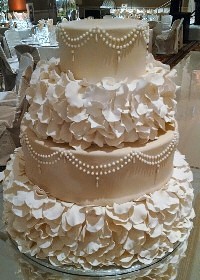 Orland Park Bakery understands how stressful planning a wedding can be. We have worked with thousands of brides and grooms and would love to assist you in designing one of the most important cakes of your life.  Our team of  highly skilled bakers and decorators will create any type of wedding cake you can imagine.  From traditional to whimsical , Orland Park Bakery will take as big or small of a role in designing your cake as you wish.  Our wedding cake specialists will work directly with you to ensure every last detail is covered. From your first visit for a tasting and consultation until you walk into your wedding reception and see your beautiful cake for the first time, you can be assured that your cake will not only look exquisite, but will taste incredible as well.
Take a look at some of our recent wedding cake photos in our gallery below and then set up a cake tasting and consultation, by using our easy scheduling calendar. If you have any questions for us, you can submit them using our wedding cake contact form. We look forward to meeting and assisting you on your very special day!
**Wedding cake quotes, orders and consultations can only be discussed with one of our Wedding Cake Specialists. Walk-ins will be accommodated on a best effort basis, but appointments are strongly encouraged. We can be extremely busy and cannot guarantee that a specialist will be available.**
Sorry:
- Please recheck your ID(s).
- If you are showing a private album, check that the "Retrieve Photos From" option is set to "User's Private Album" and that the Authorization Key is correct.